Fortnite Chapter 3 just dropped this week & players all around the globe are flocking back to the game to get a taste of the brand new updates & features. In this guide we show you how to get the new Spider-Man Mythic Web Shooters!
How to Get the Webslingers
The brand new Spider-Man webslingers / web shooters are a ton of fun to use. You can find them scattered around the map in various different places.
The best place to pick up a set is at the Daily Bugle location. When you drop in you will see spider webs all over the buildings. There are a total of five different web shooter spawns in this area.
Keep your eye out for Spider-Man themed backpacks which you will need to search in order to receive a pair of webslingers. There is a 90% chance of receiving a pair when you search a bag, so sometimes you won't get a pair. The backpack also drops supplies to heal yourself.
While shooters all have 80 shots, there is a chance to receive a pair that has unlimited ammo, so keep your eyes open for that.
Here is a map of every location where these can be found. There is no shortage of supply, so getting a pair shouldn't be too hard of a task. Image courtesy of Hypex on Twitter.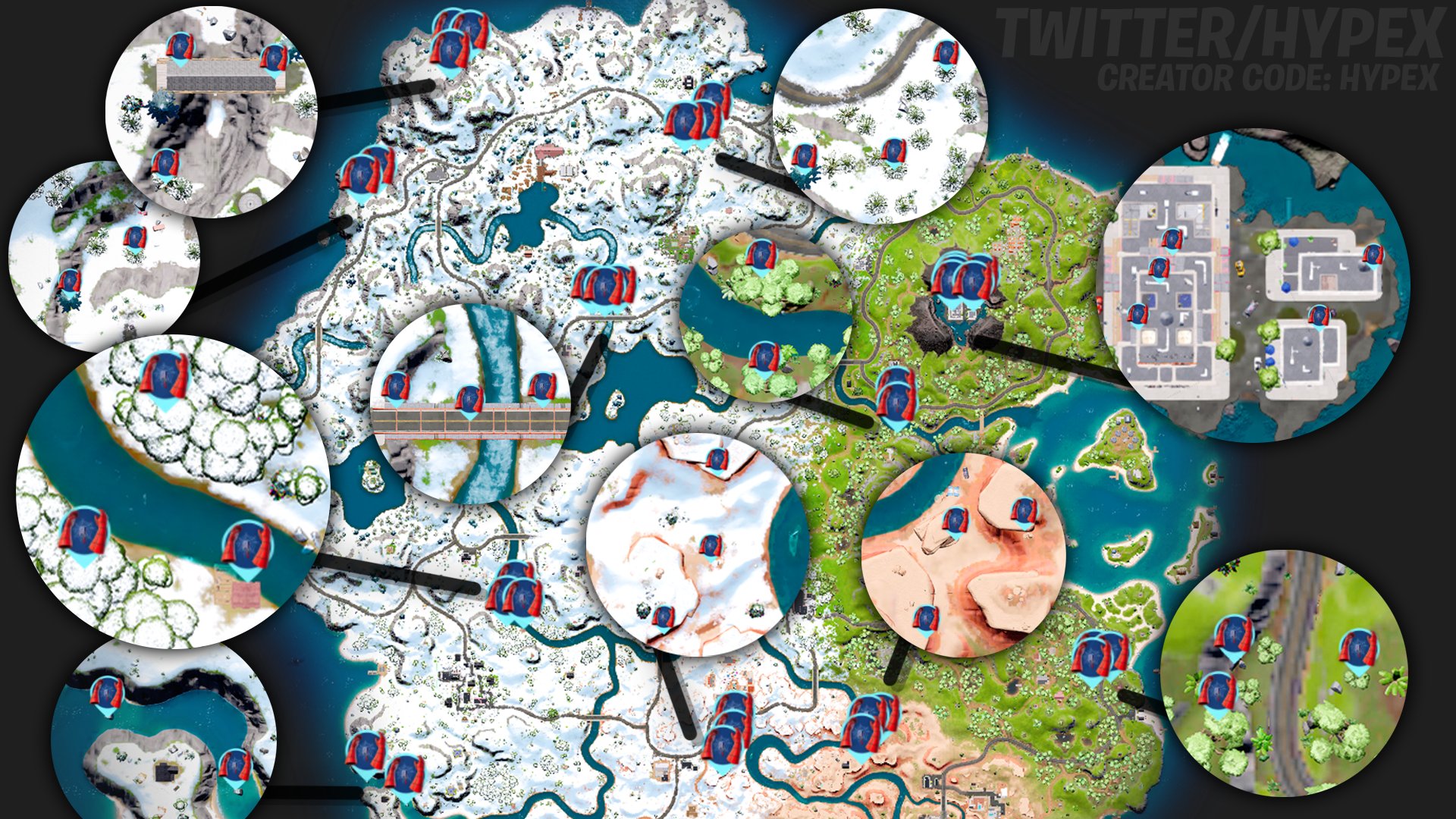 Using the Spider-Man Webslingers
The Web Shooters are a ton of fun to use & the mechanics are surprisingly good & super smooth. Many players noted how the swinging in Fortnite was leagues better than in actual Marvel / Spider-Man games.
Once you've acquired & equipped the Web Shooters, all you have to do to get moving is jump & start connecting webs to buildings, light poles & any other tall objects that you can reach.
It's better to start off high in the air to get the best results. Webs can also connect to the ground which is useful for pulling yourself back to earth.
If that wasn't cool enough, they can also be attached to the back of vehicles which will allow you to surf around the map at high speed. Items & loot can also be pulled towards you by grappling them with the web.
While there is plenty of shots in a pair to have some fun, they will run out of ammo eventually unless you find an infinite ammo variant.
Wrapping Up
That's everything you need to know about the brand new Spider-Man Mythic Web Shooters in Fortnite Chapter 3. Are you excited to get your Spidey moves on this season?
We hope that you found this guide helpful. Please feel free to drop a comment below if you have any questions or concerns about the Mythic Web Shooters!
Looking for more?
Read our latest Fortnite articles.